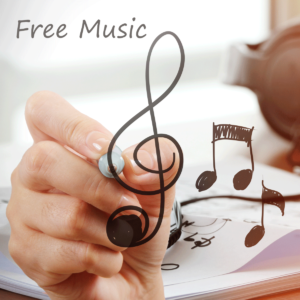 Is your church or school's music budget on a shoe string or no budget at all? If so, why not check out the free sacred music section below? That's right-gratis and reproducible!
Free Sacred Music
We have taken most of our hymn arrangements and simplified them into hymn style (four part) versions. Congregations and small choirs will enjoy singing them. You will also find other sacred music available for piano and groups to sing as well. Take you time and see what's there that you can use.
Here's an idea!
You probably remember a time when it was hard to find quality sacred music readily available for use in your ministry. Too often, we would resort to writing our own arrangement to meet the need. Why not share your arrangement with others instead of it sitting in that dusty filing cabinet.  I'm sure your music would be a great blessing to others. Many thanks to the contributors of this list of free sacred music.
Free Printable Sacred Sheet Music
 Congregational Songs and Hymns
We Must Tell
Not My Will But Thine
Music in Spanish
Escuchad Su Gran Clamor Full
 Piano Arrangements
Piano Preludes
Instrumental Arrangements

Before It's Too Late
Constantly Abiding
Sacred Choral Music

Who Will Tell Them
Standing on the Promises
Solo & Ensembles
---
Do You Have Free Sacred Music to Share?
Do you have arrangements that you have written that you would like to share with others?  Contact Us and let us know!  We would love to review it and help you share your piece in the free sacred music resource list.
Grace4all: Permission for use

Our vision for this free sacred music resource page is to provide Christ-centered music for corporate worship—all free and reproducible for your local church ministry.

Official permission to use the four parted hymns posted at grace4all.com (including the reproduction of texts and/or musical scores for corporate use) is granted under the following conditions:
the hymns are not to be altered in any way
the hymns are to be distributed free of charge
recognition is to be given to the author and composer
copyright info must be included.
Note:
If the hymns are to be used in a formal publication (such as an audio recording, hymnbook, or any project which will be sold), please email your request to David West at info@grace4all.com for permission before use.

A Few of My Favorite Contributors

The Church Pianist
Encouraging other church pianists across the world by offering improvising tips and other helps through her website.

Special Thanks

If you have benefited by the resources you have found here I would love to hear from you. Be sure to pass a word about this free sacred music resource page to others you may know. I would love to see it grow and be a blessing to everyone.