MFM008: Why Be a Sacred Music Publisher? with David E. Smith
Podcast: Play in new window | Download | Embed
Why Be a Sacred Music Publisher?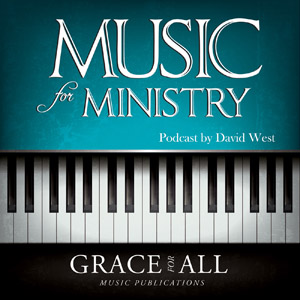 In this session of the Music For Ministry Podcast,  I chat with David E. Smith who breaks down the day-to-day of what sacred music publishing is all about.  Is it a ministry, a business, an art or a passion?
David  E. Smith is the founder and owner of David E. Smith Publications offering a huge selection of sacred instrumental music for over 30 years.
In this session, David E. Smith and I chat about:
What  motivated you to become a sacred music publisher?
Music lessons at an early age – trumpet
Lack of sacred music repertoire for various  instruments.
Explain how you, as a sacred music publisher, have become a distributor for many companies.
Brand names besides David E. Smith Publication: Psalm 150 Publications, Majestic  Music Publications, River Song Productions
A three pronged entity:

Sacred music publisher – a catalog of over 6000 items
Distributor for Rich Heffler Music, Stockton Music Services, Light of the World Music and Ken Bauer Productions 

Dealer for 20 or more companies
How do you make your sacred instrumental  music available to the public?
Working through the major music dealerships
Conferences at exhibits
Mail order
Three websites
Advertising
Give us an idea of how your submission process works
Over 100 writers
Mission – to give opportunities to people who have ability, and want to serve the Lord with their music a source to get published
Guidelines: Counterpoint
The review process takes some time for consideration
 It's not just the quality of the music but how that music fits into our catalog
What governs the price of instrumental sheet music?
The price for music has not changed much over the years
The ability of downloading music has affected the cost some
Equipment costs for reproducing music
Production materials continue to increase
Is this a "get rich quick" type of business?
Church ministries tend to be more conservative with their music purchases
How does the writer or arranger benefit from publishing through you?
Exposure
Field testing
Production
Advertising
Pricing
Research and copyrights
Royalties
Leveling – we publish for every instrument, every grade level (1-6)
Copyright Infringement  issues
Do copyright  laws apply when doing the Lord's work?
Real property vs. Intellectual property
Copyright laws were placed in our Constitution to protect the work of artists so they would perpetuate more things
Understanding Fair use of a copyright – library and schools – limited
Copyrights in other counties – Members of the Burn Convention
Types of licenses used in the publishing business
Royalty contracts – writers
Mechanical licenses – to make a CD
Synchronization licenses –  transmitted over radio or television
Digital licenses
Permissions granted often
Where would one go to download a music product?
Tells about what you call your axiom of music publishing.
We don't have what you want
Somehow what we do have, we didn't do it right
I wanted it yesterday
A caution concerning meeting the customers wishes
People will state they what they want but they don't always follow through
Second guessing the market – stay ahead of the customer to produce things they don't know that they might want
How flexible are you concerning changing arrangements to fit other instruments?
Musically pure – would tend to keep works published in the same family – brass with brass etc.
Some keys do not allow the changing of the music to work that instrument
Music software like Finale has made the process easier
Attention is given to proper bowing and fingerings for string instruments
Tell us about your "flagship" products – a product that keeps them alive
The Big Three – Hymnsembles, Hymns for Multiple Instruments, Heritage – a band method supplement
Pepsembles – activity music
Opportunities to help others
Guest conducting
Adjudicating
Where is your company based?
100 miles north of Detroit
Rural community
Having a FedEx account, a UPS account, and an Internet account allows us to be located anywhere
How would someone contact you to find out more about David E. Smith Publications?
despub.com – informational site
churchmusic.biz – marketing site and excellent search engine
instrumentalchurchmusic.com
localchurchmusic.com
Toll free number: 800-O'Sacred, 800-672-2733
despub@greatlakes.net or info@despub.com
Dealers
Get a copy of the hymn history book – Revive Us Again