Grace For All Music
is delighted to represent the works of many writers and arrangers who have the same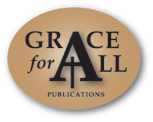 desire to produce conservative Christian music. Their sacred music arrangements are fresh, traditional in styling and singable for any size choir.
Dan Forest, Faye Lopez, Duane Nichols, James Koerts, Duane Ream, David Ledgerwood, Sandra Achterberg, Jeffrey A. Smith, James Barnard, Lance Bastian, Chris Collins, Heidi Fox, Mary Ellen Bream, Dr. Don Scovill, Kimberly Plew, Aprille Donaldson, Amy Marshall Long, Nathan Majewski, Delayna West, Daniel Hefner, Michael Winningham, Brent Karding, Eric D. Hanson, David West
Seeking conservative writers and arrangers
We are always pleased to review new materials for possible publication. If you would like to submit a composition for publication consideration follow this link – submissions.